It's not totally clear to us why we're so obsessed with celebrities' heights, but we are. Check out the slideshow and let us know which celebrity heights surprised you. 37 Celebrity Heights You'd NEVER Believe Are True! From Kim Kardashian to Bruno Mars – check out ALL the celebrity heights that'll shock and celebrity heights you from across the showbiz world.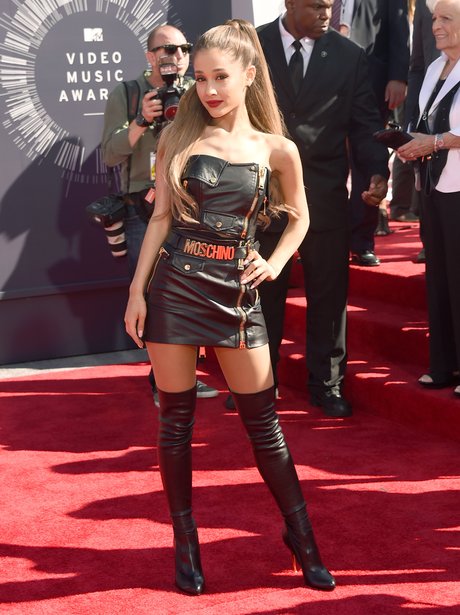 Focus' star is one of the shortest stars of them all – she's only 5ft! Pint-sized and we LOVE her for it! Heart Attack' star is fiery and larger than life – well, TECHNICALLY she's only 5ft 1. Mother Monster Lady Gaga is one of the smallest pop stars of them all at just 5ft 1. But she's got a VERY big personality – as we all know! Beez In The Trap' rap star Nicki Minaj clocks in at 5ft 2. Here's a lady who is SO worth it!
And guess what she's pretty tiny too, only 5ft 2! Reality TV queen Kim K is just 5ft 2 tall. A small lady with a BIG showbiz empire! Pretty Little Liars lead Lucy clocks in at 5ft 2. The original Princess of Pop, Ms Britney Spears herself, is 5ft 4. New Zealand star – the voice behind 'Royals' – is 5ft 5.
Harry Potter star Daniel Radcliffe isn't the tallest Hollywood chap on the block, rocking in at only 5ft 5. Uptown Funk' singer Bruno is also on the smaller side with a height of 5ft 5. An average size for a women with Miley coming in at 5ft 5 but nothing average about the popstar! The 'Lush Life' superstar comes in at a modest 5ft 6. How comes they always seem so much bigger on stage?
The youngest Jenner measures 5ft 6. Don't be fooled by her average height – this Jenner is not to be messed with! Queen Beyonce might wear heels a lot but she isn't fooling us. The Hunger Games star comes in on the small side at 5 ft 7 when compared to his co-stars. He's the same size as Beyonce!
The 'Roar' singer measures 5ft 7, despite the killer shoes she often wears. This pop legend has a height of 5ft 8. Not let his array of hats deceive you. A man known for his rants and larger than life personality, Kanye West is of average height at 5ft 8. Let's face it, it doesn't matter how tall you are when you're responsible for anthems such as 'Pass Out' and 'Girls Like'.
But Tinie stands at 5ft 8. Our movie star favourite, Zac Efron measures 5ft 8. Everybody's favourite singing sensation Nathan Sykes beats the hunky Zac Efron by an inchcome on boys, it's not a competition! The ex Jonas-Brothers singer comes in at 5ft 9. Sorry' Bieber, you're 5 ft 9. She means business in both her dress sense and height – Jennifer Lawrence is 5ft 9. No wonder she's the leader of the pack – she's the tallest of them all!